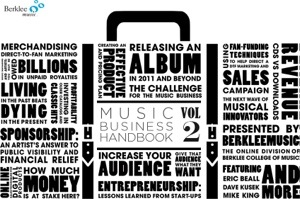 We're coming to the end of 2013, so now is a good time to look back at the music business happenings of the year to see the trends and events that affected it. The following 15 events may have been taken lightly at the time, but at least some of them will have a lasting effect on the industry.
The highlights are broken into three major areas: music distribution, artists and record labels, which all include tech and marketing related events to some degree. Here we go, in no particular order of importance.
Music Distribution
1. Spotify sets its mobile service partially free and expands into 55 countries, then licenses the Led Zeppelin catalog to help with the promotion. Time to get all the market share possible before the deep pocket competitors like Apple AAPL +1.17% and Google GOOG +0.98% hone in on the sector.
2. Crying poverty despite 72 million monthly active users, Pandora tries to lower its licensing royalties by buying a terrestrial radio station. Royalty collection organizations, artists and songwriters decry the move as suits fly back and forth. Bottom line, Pandora still loses money.
3. iTunes Radio is unveiled amid much fanfare in September, reaches 20 million users in a month, then disappears from the public consciousness. Is the service a sleeping giant or just sleepy?
4. Beats Music and YouTube Music both postponed their launches until 2014. The streaming music services will have stiff competition; they have to get it right out of the gate.
5. Twitter's #Music lies dormant after few users adopt, which proves the point – just because you have a large user base doesn't necessarily mean that users want to get their music from you.
6. Pirating decreases as users find that streaming is more convenient and efficient. Pirates are also found to be some of the most prolific music consumers, so is the decrease good or bad?
7. The first YouTube Music Awards show proves that what seems like a good idea isn't always so, as it draws shockingly few viewers. You can be the largest online music portal, but that apparently isn't enough to get users to watch your event.
Artists
8. Miley Cyrus makes us forget about her Disney days with a twerk-filled marketing campaign. We remember her for how she is now, but can we remember her music?
9. Jay-Z does a product tie-in with Samsung for his latest album Magna Carta Holy Grail. What seemed like a brilliant marketing move at first looks like only a cash-grab by the end.
10. Beyonce drops her latest album without any advance publicity to huge initial sales and hype. Thanks to a digital exclusive on iTunes, Target and Amazon refuse to stock the CD, a cautionary tale for other artists considering the same strategy going forward.
11. Kid Rock plays to his core audience and defies the cynics by touring with $20 tickets that include parking, along with $4 beer, and free coffee at the end of the show. The tour shakes up the concert industry, takes out the scalpers, and sells out 33 shows. What's more, he plans to do it again next year. Could this be a sign of things to come in the industry?
Record Labels
12. Irving Azoff merges his management company with Madison Square Garden Company to form Azoff MSG Entertainment. The company creates four divisions (artist management, music publishing, television product and digital branding) which look a lot like the prototype for the major label of the future.