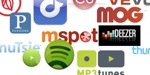 Billboard Magazine recently posted the Nielsen Soundscan year-end 2013 music sales numbers, and while they may not correspond exactly with the upcoming figures from the RIAA (Recording Industry Association of America) or IFPI (International Federation of the Phonograph Industry), I don't think they're far off the mark. I'm sure music execs everywhere are looking at the stats and wringing their hands, and in some ways, they should be, because it's the first year since iTunes was introduced that digital music has suffered a decline.
In what should be a huge red flag for the industry, 2013 digital track sales fell 5.7% from 1.34 billion units to 1.26 billion. Soundscan hasn't yet released their streaming numbers for the year, but it should be clear to everyone that streaming is the reason for the downturn. In fact, it's been widely noted that the digital download sales decline has been offset by the rise in streaming income, which we should see quantified when the numbers are made available.
Perhaps a larger problem is that the album, the cash cow of the industry (although less so than ever), has seen its sales decline for yet another year. Album sales for 2014 dipped to 289.4 million units, an 8.4% reduction from the prior year, although digital album sales fell a nominal 0.1% to 117.6 units from the previous year's 117.7 million.
We're in the era of the single song, as albums mean less and less to today's consumers. It's a different time where the attention span is much shorter, multitasking abounds, and there are more media choices than ever, which are less than ideal conditions for a medium that requires a long time commitment. Albums won't die, but hopefully they'll be altered for the times, with fewer songs and less running time. That's not going to bring the format back to prominence, but it might slow its decline. This is one time where quality trumps quantity for sure.
"Of course we all knew that CD sales would fall again, the question was only by how much."
Of course we all knew that CD sales would fall again, the question was only by how much. Last year the sales of that round piece of shinny plastic was down 14.5% to 165.4 million units. Keep in mind that these were only the units that Soundscan could count. The number of CDs that are directly sold by artists at gigs, events and online is unknown and could easily push that total considerably higher.
But who's selling these albums? In the end, it's still the same players, but the marketshare has shifted a bit. iTunes gained slightly to 40.6% last year, while the big retailers Target and Walmart declined to around 27%, Best Buy and Trans World to 13.5%, and mom and pop retailers down to 6.3%. Non-traditional retailers like Amazon and Starbucks are the only ones that saw an increase to 12.6%.
About the only format besides streaming that showed any growth was the vinyl LP, which grew last year by 32% from 4.55 million units to 6 million units. Save your cheering though, since those numbers, while now about 2% of all album sales, are still insignificant to the industry at large. No matter how much growth the format shows, vinyl will not energize the business.
"While people don't need music to live, they need it all the same."
So should the music industry be worried? In a word, no. While people don't need music to live, they need it all the same. It's in our DNA and we're always going to consume it in one form or another. What we see now is the business morphing as music streaming becomes the consumption method of choice for listeners. It seems like just yesterday we were living through the first digital music revolution; keep your eyes open because we're living it again.