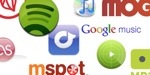 One thing about the music industry is that it likes to be comfortable. Life was so easy for about 50 years as the way business was conducted hardly ever changed. The label found an act, made a record, sold it to retail and promoted it through radio. Publishers and songwriters went to the mailbox and collected their checks. Boy, are those days over.
Just about the time the industry was getting used to digital downloads as the center of its financial universe, the business model is changing once again as streaming becomes the consumption method of choice for music lovers everywhere. The genie's out of the bottle, the cows are out the barn, and the music files are off the hard drive.
Nielsen SoundScan's numbers for 2013 now show that streaming was up 32 percent, while digital download sales were down about 6 percent. Folks, from this point on this disparity will continue to grow, and by leaps and bounds I might add, and you can take that to the bank.
Once again, let's state the obvious – people prefer convenience when it comes to technology, and streaming is so much more convenient than any other type of music consumption method that there's no contest. You're going to see streaming explode for real in 2014, and those SoundScan numbers are going to look pretty small when we look back this time next year.
There are many in the industry weeping and gnashing their teeth today over this prospect, especially artists and songwriters, but they needn't be. What we just witnessed was actually a good thing for all concerned.
The revenue from the 6 percent shortfall of about 80 million digital downloads was easily made up by the more than 118 billion streams of last year, which by my calculations should have generated somewhere around $500 million in revenue. That more than offsets the $80 million of lost revenue from the downloads and should mean that the industry is actually ahead of last year totals, if that revenue fell to the bottom line (no guarantee there).
This isn't just a phenomenon common to the United States. The UK is also reporting huge streaming increases, with a total of 7.4 billion tracks streamed in 2013 that was double that of the previous year. Streaming in that country was also worth $169 million last year, good for 10 percent of recorded music sales, according to the British Phonograph Industry trade association.
When you consider that we've only just scratched the surface of potential streaming users, you can figure those numbers to grow substantially starting now. What's more, on-demand streaming services like Spotify and Slacker grew by 102 percent, which is a good sign since they generate more money for the copyright holders than radio-like services like Pandora and iTunes Radio.
With Deezer coming to the States soon, and new services from Beats and YouTube expected to be introduced shortly, it's easy to see how this side of the streaming business will be able to grow at a faster rate (not to mention generate more income) than radio-like services, which pay less than half-as much.
In a future post I'll provide a financial roadmap of how streaming can actually be the source of some much-needed prosperity for a music industry badly in need of it.