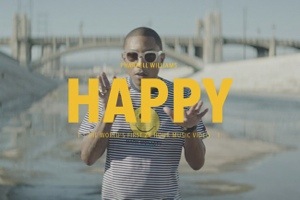 This week, Pharrell's "Happy" becomes the highest-charting Oscar-nominated song in more than a decade.
The tune, which is nominated for best original song at this year's Academy Awards, jumps from No. 8 to No. 2 on the Billboard Hot 100 chart this week. It was written by Pharrell for the animated film Despicable Me 2. The last Oscar-nominated song to go higher on the Hot 100 was Eminem's "Lose Yourself," which spent 12 weeks at No. 1 in late 2001 and early 2002.
"(Songwriting now) is about reaching people and allowing us to connect through the song," Pharrell tells Billboard. "What the world has done with this song is not my doing. I'm honored to have this experience and am so thankful that I was pushed (by the filmmakers). All the sharing and requesting and downloads? That's incredible."
"Lose Yourself" — from the film 8 Mile — won the Academy Award in early 2003 for its songwriters Eminem, Jeff Bass and Luis Resto. It was the first No. 1 Hot 100 single to win the original song Oscar since the 1998 ceremony, when "My Heart Will Go On" (from Titanic) won.
Since "Lose Yourself," the only other Oscar-nominated songs to reach the top 10 have been "Happy" and "Skyfall." The latter, from the film of the same name, reached No. 8 in October of 2012.
Notably, another of this year's Oscar-nominated songs is in the top 20 of the Hot 100: "Let It Go," from Frozen.
Idina Menzel's rendition of the song rises into the top 20 for the first time (24-18).
In turn, this is the first week that two Oscar-nominated songs are in the top 20 at the same time since early 1998, when both "My Heart Will Go On" and "How Do I Live" (from Con Air) resided in the region. (They even were both in the top 10 together for multiple weeks, as well.)