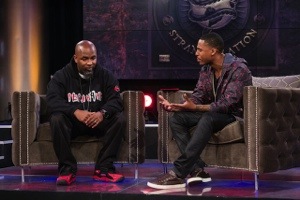 Strange Music co-founder, Tech N9ne was interviewed on Revolt TV's Revolt Live today [March 24]. While speaking with co-host DJ Damage, Tech N9ne—who is the top selling independent Hip Hop artist in the world—offered advice to aspiring artists.
"It starts with the music," Tech N9ne said. "People want to hear good music. After you do good music—after you do pure music—don't do what everybody else is doing. Don't get cloned. It's the music first. Then it's the shows. If you have a wonderful show, people will talk and they will return. That's my story. They heard my music—beautiful. They saw my show—beautiful. And then the third thing: Connecting with the fans and doing meet and greets for the people that want to see you and talk to you and connect with you. We do those. Every tour we have meet and greets for the VIPs that want to meet me or give me presents. [Laughs]"
Tech N9ne also discussed how he first started in the music industry. He explained that he began rhyming in 1985 and shared his experience working within the major label system before deciding to pursue music independently.
"I got my first record deal in 1993 with Jimmy Jam and Terry Lewis," he said. "They did Janet Jackson's music. That went sour even though we're still cool. They didn't know what to do with me. I've always been ambidextrous. I've always been different. The people that worked for them didn't know what to do or what genre to put me in. That didn't go right.
"In 1997, I got signed to Quincy Jones," Tech N9ne continued. "So from Michael Jackson to me—they saw the star quality in me, I guess. After doing that in 1997 and then signing with JCOR/Interscope in 1998, I met my partner Travis O'Guin in 1999 and we started Strange Music because who knows better how to do me than me. We've been doing this for 15 years strong. It's a beautiful thing. We're still on the incline after all these years."
Recently, Tech N9ne discussed Strange Music's upcoming album, Collabos: Strangeulation [March 12].
"I'm done working on the new project," he told HipHopDX exclusively following his performance during the Strange Music showcase at SXSW. "It's all the [Strange Music] artists together having the industry in a chokehold. That's why it's called Strangeulation—like "strangulation." We just got the master back yesterday. It comes out May 6 [2014]. We're about to start a fucking 70-plus city tour on April 9. It's called the Independent Grind Tour with Freddie Gibbs, Jarren Benton, Psych Ward Druggies, Tech N9ne and big Krizz Kaliko."
Revolt Live airs Monday through Friday at 5pm EST on Revolt TV.
[HipHopDX]