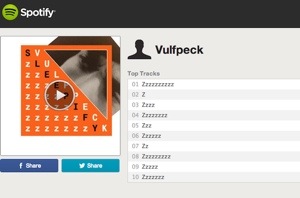 "Surely this will chart on the Billboard Silent 100," jokes Vulfpeck songwriter and multi-instrumentalist Jack Stratton. He's referring to "Sleepify," Vulfpeck's completely silent album that has so far racked up some 3.7 million streams on Spotify since its release three weeks ago. The high-concept low investment recording now stands to earn more than $18,000 — not a bad haul for the sound of silence.
The album's sole promotional tool is a YouTube video (below), which has so far received 64,000 views and features Stratton explaining the rationale behind "Sleepify": Fans are asked to stream the 10-track album on repeat overnight while sleeping, thus enabling Vulfpeck to accrue half-cent micropayments for each song stream. The band is earmarking the revenue for an upcoming free Vulfpeck tour.
While "Sleepify" streams won't count towards the Billboard charts (the soundless cuts do not qualify as songs), it shouldn't prevent the band from collecting royalties from the streaming service. (Spotify declined to comment for this story). According to Spotify's count, tracks from "Sleepify" streamed 3.72 million times, which, when multiplied by half a penny, totals $18,638.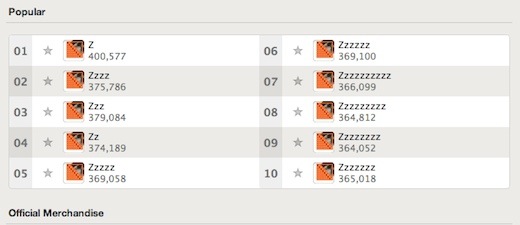 "Sleepify"'s Spotify stream count as of April 3, 2014.
The band has yet to receive a dime, but getting paid by the service can take time. "From using their product we know you get paid two months out," Stratton explains. "That's how most all these internet services work." A previous Vulfpeck song "Wait for the Moment," featuring Antwaun Stanley, from their 2013 album "My First Car," garnered some 40,000 streams, for which the band received $233 from the streaming platform. This time out, the royalties are exponentially larger.
"I thought only a thousand fans would stream 'Sleepify' — that's how many have bought off Bandcamp," Stratton says name-checking the artist promotion platform, "but the response from our fans has been positive and hilarious."
It is his knowledge of the music business that helped Stratton birth the "Sleepify" concept. He says he respects both "Prince and Gonzales" because "their business and marketing is just as interesting as the music," which makes one wonder if perhaps Vulfpeck will become even more enigmatic, or disappear for decades. Musically, for this record anyway, the obvious point of comparison is John Cage and his soundless opus "4'33," who Stratton claims as an influence. "The man has a strangle hold on silence," he says.
The inspiration for "Sleepify" came while hiking with a friend around the stunning landscape of Point Reyes near San Francisco. "The conversation we were having was asking what is the value of a song," Stratton recalls. "Is it the money it makes? Is it the number of people who enjoy it? Is it the objective craft that goes into it? It's all in flux in right now. The game is all in flux. This was thinking about that and taking it to the extreme."
Much as Vulfpeck is continuing to push the "Sleepify" silent streaming concept to new places. They're encouraging fans, for example, to Shazam their tracks by using the song identification app in places like "sensory deprivation chambers or outer space." Stratton also expressed concern when the album recently turned-up on Pirate Bay, the notorious torrent site, only because the songs weren't at the right lengths and the "MP3 compression was mangled." Consequently, he claims he is trying to get "Sleepify on Neil Young's Ponos, because it has a much higher sound quality. He also insists the album is actually one track called "Z" and the rest are just "remixes."
As Stratton considers the amount the band stands to earn from "Sleepify" he thinks of another item he would like to purchase. "A Prevost, it's the most cush tour bus," he says. "Three members of Vulfpeck backed up Darren Criss on his tour and he had one. We didn't get to ride in it, but we got smell it."
[Billboard]