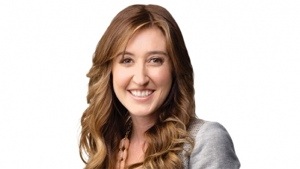 Who Zoë Sonquist King
New gig Director, brand partnerships, Capitol Music Group
Old gig Account manager, Cimarron Group
Age 31
Describe your role at Capitol.
Our team does anything from product placement to music videos. We work with others inside the company to create content that surrounds artists, and we sell to brands to align with their objectives or help them develop music programs. It can be as small as partnering with a brand to use their media and marketing dollars where the artist and label aren't paid anything.
Capitol has put a lot of emphasis on creating content internally for marketers. How does that work?
A lot of times it has to do with brands that might not have spent time in the music space and/or they're just looking to get into it. We've been working on a series, 1 Mic, 1 Take, where we have our artists record two of their own songs, a cover song and a Christmas song. Then we beautify footage—we've been doing it for about two years and we have nearly 300 pieces of content that a brand can use. The music industry works so quickly. Brands work on a different cycle. … They don't want us coming to them at the last minute and saying we have an album out in three months. Now we can say we have all this content, so let's talk about something that releases next year.
Tell us about an artist who has been helped by brand media exposure.
We have a band called Capital Cities. They're two jingle writers who met on Craigslist. They have a song, "Safe and Sound," which has become a monster due to a lot of brand partners. We did a sync with Mazda that's everywhere.
So has this become a big part of promoting developing artists?
Equally as valuable to us as getting a paycheck is the fact that brands have designated a lot of money for media buys. So if we can have a part of that for a smaller artist, where we don't have a huge budget, we look at it as we develop that artist.
Are there particular music genres that marketers are really interested in right now?
One that I'm hearing a lot about is EDM [electronic dance music]. Capitol has a label called Astralwerks and it's focused [on] EDM. I'm calling those guys more and more as brands get excited about it.
How is marketing and music changing? It's not just about using music in commercials and artist sponsorships anymore, is it?
The days of a huge paycheck and endorsement deal are dwindling. … Another change: Our brand partners are not always looking for large artists like a Jennifer Lopez. They want to grow someone. As music becomes such a big part of advertising and a consumer connection, marketers want to help build an artist's career.
How's the competitive landscape changed?
There are a lot of players now. We've heard that labels aren't needed because agencies and brands can go directly to management. So we've had to showcase our value. We serve artists, brands, film and TV clients. We have a whole team here that handles analytics and insights.
Are musicians more willing to be associated with marketers?
There will always be people who don't want anything to do with brands—and others are open to it. When we sign an artist, we ask: Who do you like? Who do you not like? Do you have charities you like? We always have an honest conversation. If you don't want anything to do with alcohol because your fan base is too young, I'm not going to touch it. But I also want them to see all the opportunities coming in, whether it's good or not so hot.