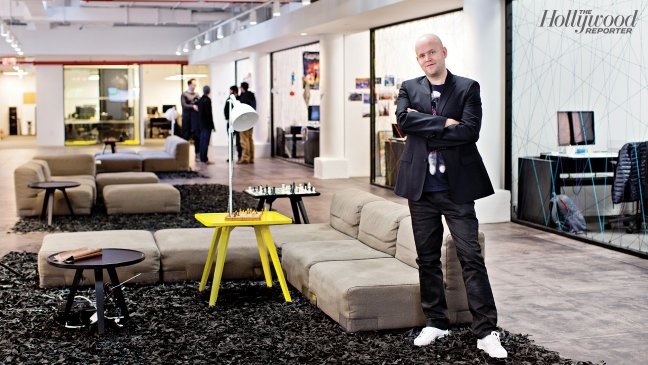 The number of paying Spotify subscribers has grown to 10 million globally, driven by mobile usage — noting a major landmark number for the music industry as it looks to monthly streaming services as the future of the business.
Yet it is the rate of growth in the music business' No. 1 market in the United States that is most pleasing to industry insiders. According to sources familiar with the company's data, Spotify has swelled to more than 3 million paying subscribers in less than three years since launching here in July 2011.
The last time Spotify revealed user numbers in March 2013, it had 6 million paying subscribers globally. A key part of Spotify's strategy is to offer free access to various levels of its service. It now has more than 40 million monthly active users including the 10 million paying subs – one in four.
"This shows that our conversion rate is working," says chief executive Daniel Ek. "We're proving the more people play, the more they'll pay."
Spotify is revealing these numbers as talk around the possibility of an initial public offering heats up – potentially for later this year at valuations well north of the $4 billion mark it passed with its last private funding round in November.
For public investors in the consumer Internet space, the strongest interest is with digital media companies that are growing users at a rapid tick. While it is not the pace or scale of a Facebook, Spotify is easily the biggest and likely fastest growing of similar music subscription service rivals, including Rhapsody, Deezer, Rdio and Beats Music – currently the subject of Apple's $3.2 billion bid for parent Beats Electronics.
Muve Music, a bundled service with Cricket Wireless, is estimated to have around 2 million U.S. subscribers. Rhapsody revealed last month it now has 1.7 million subscribers globally. It is estimated just over half are in the U.S. Deezer has reported 5 million subscribers with the majority in its home country France – it is not yet in the U.S. Rdio is believed to have under 500,000 in the U.S., while newcomer Beats Music had around 200,000 subs in its first three months, according to sources.
Ek said the recent rapid growth with Spotify was fueled by the roll-out of its free mobile service in December. He said more than 80 percent of all subscribers that sign up now do so through mobile phones.
"We've really become a mobile-first company," he said.
Based on Spotify's current rate of growth and people familiar with its internal data, Billboard estimates it will pay up to $1 billion to the labels and publishers this year alone. As of last December, the company had paid out up to a total of $1 billion in licensing fees to the music business since its October 2008 launch.
Overall U.S. paid subscription revenues rose 57 percent to $628 million last year and the number of subscribers rose 81 percent to 6.1 million, according to the RIAA.
The news of Spotify's growth comes as speculation mounts about the company going public later this year. The anticipation has grown as Spotify has advertised for SEC regulatory staff, agreed to a $200 million credit line with several Wall Street banks, inked a partnership with Sprint wireless partnership, expanded in Latin America and acquired EchoNest, a data service.
The growing licensing fees, which rise with fans' usage, has meant that Spotify has yet to turn a profit as it ramps up.
This could be a red flag for some investors, but it is also likely that most will focus on the subscriber growth.
"Growth is paramount, because if you're not growing there's no chance of improving profitability," said Eric Jackson, a seasoned technology investor and founder of Ironfire Capital.
The growth of Spotify's paid subscriber base is potentially very good news for the music business. After more than 15 years of year-on-year declines as CD sales shrunk and several false dawns of bounce-backs, it is understandable executives are privately positive but also remain cautious.
For one thing, it is not yet certain streaming subscriber numbers will grow fast enough to make up for the slowdown of song downloads, which have decreased some 13 percent so far this year compared with a year ago. U.S. paid subscription revenues, however, rose 57 percent to $628 million last year and the number of subscribers rose 81 percent to 6.1 million, according to the RIAA.
The world's largest music company Universal Music Group said in its first quarter financials that its sales had dipped by 2% because, despite streaming services' strong growth, it was unable to offset downloads' decline.
But there is also plenty of reason for optimism given Spotify is just one player and others like Apple are still keen on entering the market.