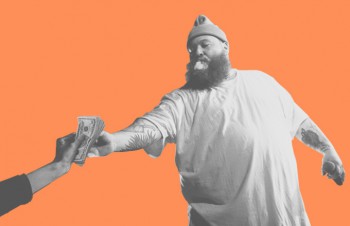 If you haven't noticed, the rap business has changed. You probably know this because you and all your friends likely haven't paid for an artist's music in a minute. Due to torrenting, streaming, and music sharing (basically the Internet), records just don't sell like they used to. So, with record purchases more or less going the way of Blockbuster rentals, those who make their living through music have had to find another way to make money. The answer? Touring.
Currently, everyone from struggle rappers to superstars are touring more often, hitting more cities, and generally, getting more money. As touring becomes more crucial, the amount that artists get paid for a show, a.k.a. their quote, becomes more interesting and more important. Rap fans geeked out over sales numbers to see how their favorite and least favorite rappers' careers are fairing. Now, you're much better off checking how much they get for a show. Remember when 50 Cent and Kanye West had their sales competition? That was 2008, but in 2014, they should be seeing whose quote is higher (Answer: 'Ye by a million).
Another major development is how massively important booking agencies, a.k.a. the companies whose agents book artists' tours, have become. As record deals mean less and less, who your booking agent is can count for everything. A few major companies—William Morris Endeavor, CAA, the Agency Group, and ICM—represent nearly all your favorite rappers, and a few agents, major players like Cara Lewis or Peter Schwartz, have taken on the behind-the-scenes roles of tastemakers. For up-and-comers, getting signed to a powerful booking agency can be a bigger cosign than signing your first deal. Chance the Rapper has yet to link up with a label, but in 2013 inking a contract with Cara Lewis and CAA was more than enough to verify his hype.
Because of how important touring has become, we compiled a list letting you know how much your favorite rapper gets paid for a show. All these numbers are ballpark estimates gathered by scouring the Internet for details on tours posted by industry sites or speaking with agencies and third party dealers and asking for their artists' quotes. However, there are interesting quirks that can twist some of these figures. For example, you get paid exponentially more for a "one-off" (a random show at a festival, college, or private party) than you would for stops on an extended tour.
For anyone interested in which rappers are really getting the most money and who is dominating in the most important area in the music industry today, this list has all you need. Study up.
Isaiah Rashad
Quote: $7,500
Although this is the lowest number for any T.D.E. artist, this is nothing to be ashamed of with Rashad coming off of just one mixtape. We're sure this number is gonna go up as he releases more material.
Vic Mensa
Quote: $10,000
$10K might not be much compared to others on this list, but Vic has been putting out strong material, so this figure is sure to climb once his album drops.
Trinidad Jame$
Quote: $12,500
While Trinidad's stock was by no means rising before getting dropped by Def Jam, that bad PR certainly isn't going to help.
Travi$ Scott
Quote: $15,000
Anyone who's ever been to one of his live shows has to feel like this is a bargain for how hard dude goes at every performance.
Action Bronson
Quote: $20,000
Bronsoliño has continued to grown his profile in 2014, and his raucous live shows have played a major factor. Bronson is known for walking in the crowd and giving away free stuff, so $20K seems like a bargain.
Curren$y
Quote: $20,000
Few rappers have put as much time into crafting a cult fan base as Curren$y, and it obviously paid off as he can get this much for a show without much mainstream notoriety.
Danny Brown
Quote: $20,000
Okay, Danny Brown might not get the most per show of all the rappers on this list, but who else got felatio on stage?
Asher Roth
Quote: $20,000
Asher never ended up appealing to the larger audience he seemed destined to win over with his 2009 hit "I Love College." But he did grow a valuable cult fan base that will come out and see him whenever he tours smaller venues.
A$AP Ferg
Quote: $25,000
What a difference a year has made for Mr. Fergestein. Singles like "Work" and "Shabba" and the success of Trap Lord have taken Ferg from a background Mob member to a stud in his own right, and his pay rate has reflected that come up.
Bow Wow
Quote: $25,000
You mad? Despite how corny you may think Bow Wow is, he still rakes in a solid amount per show even though he hasn't released anything substantial in years. That being said, it'd take more than $25,000 for us to call him Shad Moss.
Chance the Rapper
Quote: $35,000
Sure, $35K a show might not blow your mind right from the jump, but when you consider the fact that young Chancellor has played an insane amount of shows this year and that he is free from a pesky 360 deal taking some of his precious show money, it's easy to see he truly raked it in in 2014.
Busta Rhymes
Quote: $40,000
Busta has a huge catalog of hits and is known for a voracious live show, so this feels a little on the low side.
Big Boi
Quote: $50,000
Big Boi's two excellent solo albums have more than proved that he's a star by himself. Still, his lofty quote doesn't hold a candle to what OutKast is getting as a duo hitting this summer's festival circuit.
Soulja Boy
Quote: $50,000+
Who'da thunk that the kid who made "Crank Dat" would not only be relevant seven years later but also be making this much per show? We made it.
Tyler, The Creator
Quote: $60,000
Tyler, The Creator is yet another artist whose unique live show played such a big role in creating a persona early in his career. He's known for his energetic performances, and he's well compensated for them.
Nelly
Quote: $65,000
We love Nellyville and Country Grammar as much as the next person, but this number makes us feel like some people are overpaying for nostalgia.
Lupe Fiasco
Quote: $65,000-$70,000
Has Lupe cooled off considerably since his incredible first two albums? Yes. But, does he still make more than 99.9 percent of people on this planet for one night of work? Yes, yes, he does.
And more here: http://www.complex.com/music/2014/08/how-much-does-it-cost-to-book-rapper/lupe-fiasco
[Complex Mag]