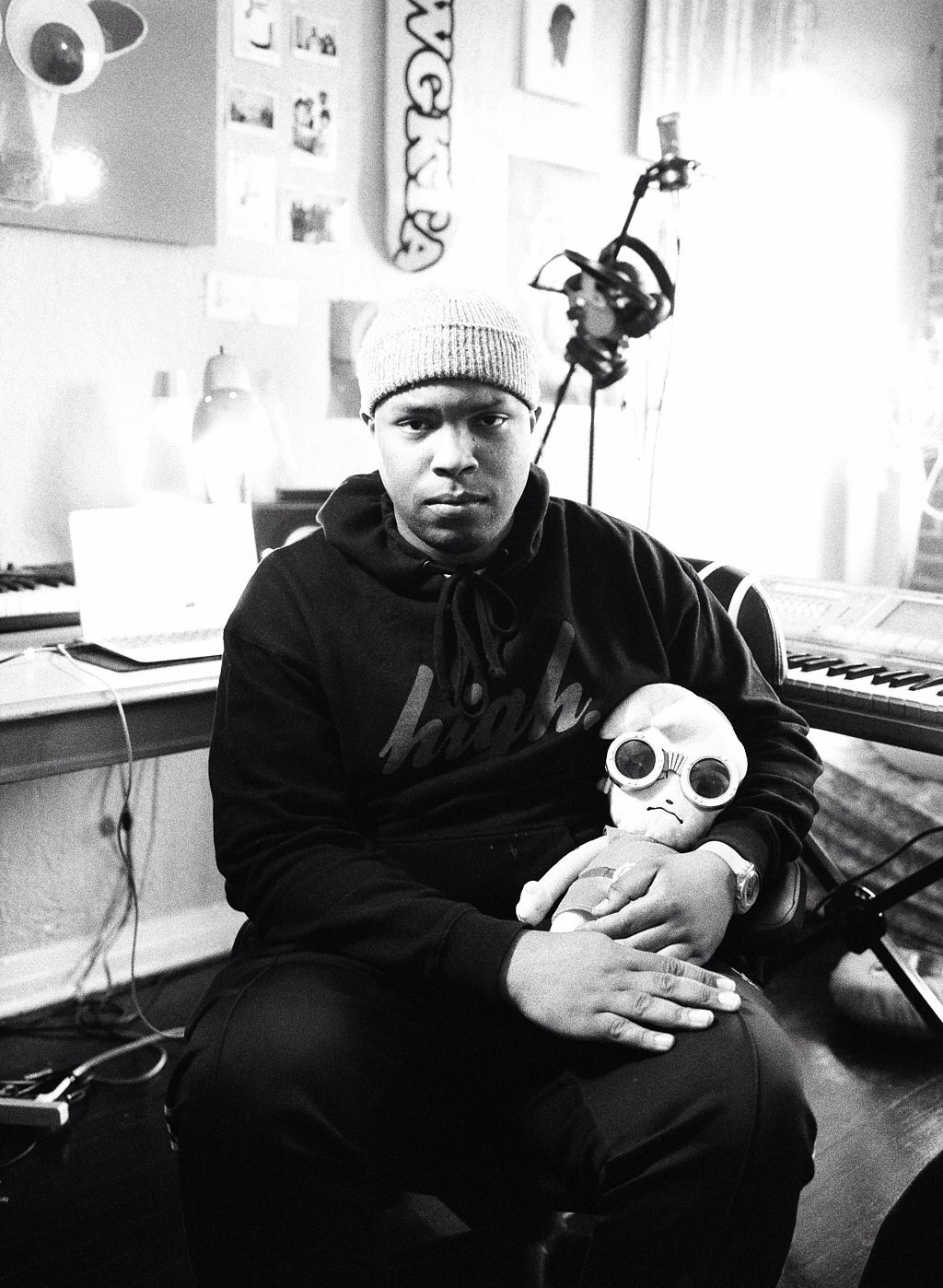 The producer is one of the most crucial yet anonymous figures in all of music. Every now and again we aim to illuminate these under-heralded artists with Beat Construction. This week, we spoke to Matt Martians, the Odd Future producer/keyboardist who co-founded The Internet, helmed Kilo Kish's debut, and inspired Kendrick Lamar with his free-form production experiment The Jet Age of Tomorrow. We talk about '08 Myspace, '14 Atlanta, and the perfect powder keg balance of sound and image he's striving to reach.
You were making music way before you were in the mix on any OF stuff? How did you start? My older brother had Fruity Loops when I was in middle school. I just started out making little random beats. When I was in fifth grade and everyone was listening to mainstream, I was listening to N.E.R.D. and stuff that wasn't cool at the time. It's cool now to like N.E.R.D. but back then it wasn't cool. I would listen to The Commodores, Tribe Called Quest—that was my shit. A lot of my favorite bands would take like four or five years to put out an album. I was like, y'alls music is therapeutic to people, it's like a medicine, people need that shit. That was half the reason I started making music, so I could feed that hunger for something new—kind of a cook your own food, teach a man to fish situation.
Your brother is an A&R right? Yeah, he was an A&R for Janelle Monae and Outkast. He helped her start the label she has now. I got to see Janelle Monae and her camp come up from the start. Kind of like where me and Syd started. I understood that it had to be a family atmosphere—like legit family atmosphere, not we family when there's money and you know when the money's not rollin' in…
How's he been a resource for your career? He gives me little anecdotes. He's the one I tell stuff to, if something's going on, cause he'll understand it. I remember he would tell me things Andre 3000 would tell Janelle: no matter how weird you want to get, you've still got to have music for the every day fan. If you make a weird song, you've gotta have a breakdown part that has a little chant that'll get niggas being like "oh, I feel him." Even though it's weird you still ridin' with us.
A&Rs are often under-credited for their work as producers. A lot of times they are as involved as the person sitting there pressing the buttons and making the music. That's very true. My brother's not a producer, but he still has to know how things should sound. That's a form of producing. The first two Internet albums were more so me making the beats, or the homies contributing beats, but with the next album I'm taking kind of a more Quincy Jones approach, cause we have so many talented young musicians around. I might not be playing any of the stuff, but I'm telling them what to play because these are extraordinary musicians that can outplay me on any instrument.
Your early work as Jet Age of Tomorrow was very experimental. I call it free form. That's how I see it in my head. Jet Age was an excuse for me to put out anything that I wanted. That's why I didn't ever really push it. I wanted it to be that cult following thing that has those fans, but not a huge deal. At the heart of The Internet is Jet Age. I still can be free form, but with The Internet I have to… You can get too weird, you've got to have something for the regular man to dance to. With Jet Age, I don't care. I just want people to just vibe to it, if don't like it, you don't like it, if you do that's tight.
You've mentioned you were sampled on Kendrick Lamar's "A.D.H.D" and weren't credited. When did you first hear that record? The first time I heard that record was when Section.80 came out. I was getting tweets like, oh you're on the new Kendrick album. That was the first time I heard of Kendrick because I be late to people all the time. A few days passed, and people keep hitting me up, and I'm really confused. I go and listen to it and I'm like wow. It is what it is, but there's no key switch–it literally is my song with new drums over it. I would have loved to let them use it. I'm a big fan of Kendrick's, so I wouldn't have had a problem with it. It's like a courtesy thing, let someone know. Most artists want the best product to come out of anything they make. So my thing is just letting them know, giving them proper credit.
If you're a creative person and you make music, wouldn't you appreciate something dope being made out of something you made? If you're hungry and someone got rich off your record, that's one thing. I'm a respect kind of guy, I'm not no industry dude. I just want people to have good music to listen to, that's literally why I make music. I'd do art if I wanted to make money from something I was naturally talented in. So just give people credit. My situation is frustrating because it's been two years since the process of clearing it. Now I own more of the song than the actual person that produced it. It's just a respect thing, I'm not mad about it. Its just crazy the same guy produced the song they're getting sued for.
How was it working with Chad Hugo on the last album? Working with Chad was fucking dope dude. He's like one of us. In the studio, wearing socks, making beats. We were at Mike Einziger's house, he executive produced our last album and he was the writer and guitarist for Incubus. He and Chad are real good friends. We start making "Dontcha," and Chad was like, "I'm in the hall making beats, if you need anything come get me." So when "Dontcha" started getting tight, we got him for the bass line. He came in, real quiet, and did it perfectly on the first take, exactly on the click, and then he's like "Ok, if you need anything else, let me know."
It's crazy to think about how relevant N.E.R.D's sound is now, considering when they first came out… They got bad reviews! I remember that shit. The cream of the crop, they rose to the top. I'm not saying it's the best music, but it was some of the most innovative shit I'd say for back then. That's why these niggas weren't ready for it. That's the thing with being ahead of your time. I feel like that about Sa-Ra, a lot of artists are musical descendants of Sa-Ra. People just get there late, but it's cool–better late than never.
It's almost more real because it didn't blow up and the band didn't keep going. Those records are frozen in time now. I don't want to say I modeled The Internet after N.E.R.D, but I love the pocket that N.E.R.D got into. They could do festivals and work with major people, but it didn't feel forced. It felt like this is what we do for fun, and we don't have to be doing this. You're not trying to go too far, but you're not trying to stoop too low.
The Internet's sound is not the default popular sound with young people right now. How do you convert new fans? It just depends man. Sometimes we'll perform in front of a full rap crowd and they won't understand it. We'll perform in front a full rap crowd somewhere else and they'll get it, cause they understand the soul in it and the hip-hop base to some of the songs. Since the band has gotten better, people have started understanding. People like to know that other people are listening to what they're listening to. Now, since we're making a little bit more leeway, it's okay to like The Internet.
So often, artists that play live music like you are almost comically "about the music," like, "fuck the industry." But you seem to be very in tune with navigating your career. I hear you talk about image versus sound, and fans, and different pockets. You have to understand your fan base. I look at the industry closely so I don't have to be in the industry, if that makes any sense. We really don't deal with any industry people, we do everything ourselves, so the only time we deal with industry people is when we need to turn in an album.
And how is that process? That's a whole different story. Turning the album in or what?
Taking this music that you guys know isn't mainstream in any way, and presenting it through a label. Luckily, they believe in us. Especially for this next album. They put us in the studio with some really tight people that I never thought I'd be able to work with. It's our third album, it's very important for us. I want us to be taken seriously. I want us to be able to tour for the rest of our lives, so I want to give people something different, but have that sound. Every artist has their sound. That's more my concern than is the label going to like it.
Talk to me about 07-08 Myspace. There was so much music and so many ideas and trends that were getting traded on forums and pages, out of the public eye. I was having this conversation with somebody the other day, I feel like when Tyler's image met up with his music… that's with anybody. With most artists, the reason they not getting on is either their music isn't right where it needs to be, or their image isn't. Our image was there for a while, and right when our music started to get there, around "Sandwiches" and before Goblin, that's when—it was a formula, we concocted it and it exploded. Back then, the image was really lo-fi. We didn't have any kind of structure to it. It was kind of like a AIM group. That's when I got put on to Odd Future. I got on AIM one day, and Left Brain put his away status like "Super 3 for Odd Future." They put me on the first album, the Odd Future Tape, and it just went from there. I miss those days man. I'm happy that we all still feel like a brotherhood and have the respect we had back then. We may not be together all the time and working on music together, but it's that respect.
Did it ever get difficult being in Atlanta instead of in Ladera with the rest of the group? AirTran used to do these standby tickets for $100 dollars. I would get on those and go to LA and hang with Tyler and Syd and them. I understood the Odd Future environment, it was similar to how I thought. You gotta have thick skin, you have to come with it or you'll get eaten alive. But when you get used to it, you realize these dudes are real, they have good hearts, they have good morals. That's not something I can say about a lot of people.
How's it been watching Syd develop as a songwriter and an artist? It's cool. I remember when Syd was first in Odd Future and it was hard for her on the road. She was still a teenage girl at the time, and so she still gets emotional. With touring and music she wasn't as confident, but now she's been going to vocal training, she's good on the tour, she's older and she's more sure of herself. Even her stage presence, it has evolved tremendously, so I think you know skies the limit. Her image is starting to go with the music. I'm proud of her man.
Being young in Atlanta right now has got to be what it felt like to be young in New York in the '80s or Detroit in the '60s. All your musical heroes are from the same place as you. It was like that when I was in high school too, I remember. The snap music era and the crunk era. Shit was cray cray just like it is now. It was a dip for a while, for the last six or seven years in Atlanta. Now, it's coming back—Atlanta's red hot. If you're good, this is your time to shine. You know why I feel like Atlanta does better, and not does better but more people get on, more rappers at least? When big producers and big people get on in Atlanta, they're more willing to work with local upcoming artists than a lot of other cities. Mike Will and Rae Sremmurd. Nobody knew who they were, but Mike Will is giving them beats. Two-9 been grinding for a while. ILoveMakonnen, all these people started giving him beats that got him where he needed to be. Makonnen always had the image. I knew about Makonnen two years ago, I was like yo, Makonnen is dope, he's going to blow. All he gotta do is perfect his sound, and when he got with some producers that could polish his sound, what happened?