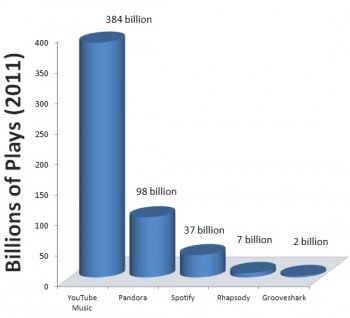 (1) YouTube Music Videos – Based on top-level, 2011 view data of 1 trillion views, as reported by YouTube. Accustream iMedia Research estimates that 38.4 percent of that traffic is music videos.
(2) Pandora – The company reported 8.2 billion hours of radio streaming during its fiscal 2011. Assuming 12, 5-minute songs in that span, the total number of 98 million is reached (the estimate ignores in-stream ad interruptions, but inflates the average song length).
(3) Spotify – Using the company's 10 million active userbase figure (WW, includes premium), and assuming a daily play of 10 songs.
(4) Rhapsody – Using the company's reported 1 million subscriber total, assuming a higher per-daily play of 20 million from paying subs.
(5) Grooveshark – The Office of Technology Licensing at the University of Florida pegged the figure at 150 million per month in 2010 (we've seen this estimate elsewhere). We inflated to 200mm given very noticeable growth since 2010 as measured by Alexa (though in fairness, Compete shows modest declines).