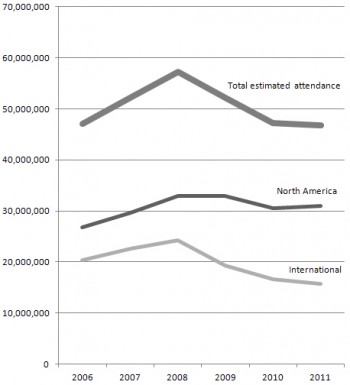 Awareness, or lack thereof. It's traditionally been the biggest reason why people miss concerts from their favorite artists. Right in their own backyards. Which is the driving motivation behind heavily-funded startups like Songkick, and recently-launched concepts like Live Nation's Facebook app, Concert Calendar. Because people tend to listen, like, and acquire music from their favorite artists online, which means it's now easier than ever to identify and alert those fans of an upcoming show.
In fact, it's now harder than ever – in the history of live events – to miss a show. But if this is such a revolutionary moment for live events, why are fewer and fewer people actually going to shows?
Here's a breakdown of concert attendance from Live Nation, which shows a decrease in attendance over the years. That is, despite the surge in totally-connected apps and alert systems. In fact, since Songkick hit the stage in 2007 (and since received $16.5 million in funding), Live Nation's global attendance has dropped 10.4 percent. And in-between, Live Nation itself has been steadily ratcheting its social networking initiatives, most notably on Facebook.