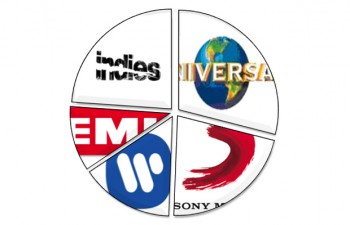 In an annual survey taken by Music & Copyright, it's been revealed that three of the four major labels—Universal Music Group, Warner Music Group, Sony Music Entertainment, and EMI—suffered a decline in global market share. These deficits can be traced to a rise in global market share within the independent music industry.
According to the survey, Universal Music Group's global market share dropped from 28.7 percent in 2010 to 27.9 percent in 2011; Sony Music Entertainment, 23 percent to 21.9 percent; and EMI, 20.2 percent to 19.9 percent. Warner Music Group was the only major label to see an increase in GMS with .02 percent.
Collectively, independent labels saw a 2 percent increase in GMS, putting them at 25.2 percent.
Despite a .08 percent deficit in global market share, Universal Music Group still earned the most revenue through sales, publishing, and licensing.
As more artists like Mac Miller continue to debut at No. 1 on the charts without the help of a major label, expect independent music to continue to thrive in the coming years.
For the full report, head on over to the Music & Copyright blog.