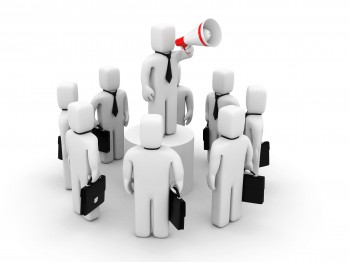 Artists tend to be creative people. We write music, create dazzling visions of art, and express sentiments in the most unique ways. However, when it comes to promoting our art, something else happens. For one reason or the other, most artists fail to express any creativity in their business endeavors.
Here are five easy (non-internet) ways that you could promote your band. I hope that more than anything else, they get your brain going and inspire you to create ideas that work specifically for your art.
Teaming Up with Local Food: Do you frequent a local restaurant or know someone in the restaurant business? Offer to come up with a new recipe. On the menu, write "created by ______" (or however you want it phrased). In return, you'll help promote the restaurant by encouraging fans to order the dish: through social media, on the back of your business cards, maybe a flyer or coupon. What restaurant wouldn't want a local band promoting their food for free all over town?  You could do the same thing with a bar as well (designing a signature drink).
Coast with the Local Watering Hole: Speaking of bars, many of them also need coasters (they're often supplied for free by beer or spirits distributors). Why not design some coasters and drop them off at your favorite place? You could design a cool logo, offer a free download, and link with a QR code to your music right there. Coasters are only a few cents to custom imprint, why not? Maybe your fans would want some, too.
At the Car Wash: I drive by an intersection that has car washes nearly every weekend. I've seen sports teams, church groups, and rehab centers, but I've never seen a band out there raising money for an album or tour van. Why not? Car washes are actually a great way to make money fairly easily. You could get friends and fans to help out, have a performance or sell CD's, etc. In fact, you could even offer a free CD with a $10 donation or more for the car wash. You'd probably make more money in one afternoon than your typical dive bar gig.
Consignment: Consider selling your music or merchandise via consignment at places outside the normal record store. For instance, my band (The Slants) has a strong connection with the anime/comic book world so I set up displays and sell music at comic book stores around the country. We often offer to come in and do a performance, help promote the store, and only ask for a percentage of each sale in exchange for having the store feature our music. Music can be bought/sold anywhere, just look at Starbucks creating their own record label. What kinds of stores do you have a connection to?
Charity Fundraisers: There are many fundraisers that are looking for live entertainment. You might have even played some yourself. But have you also participated as a fundraising team for a cause that is important to you? Most fundraisers use a website system called Convio where participants can set up a personalized fundraising page and the top fundraisers are featured.  If you also participate as an active fundraiser, you'll have much greater support (and recognition) from the organization, its staff, and volunteers. You can also give away free music in exchange for donations (makes a great tax write off) as well.
These are just some initial thoughts. I hope that they inspire you to think outside the box with all areas of your music career and how you can inject your own creativity into the process. What are some interesting things that you have done? –Musicthinktank