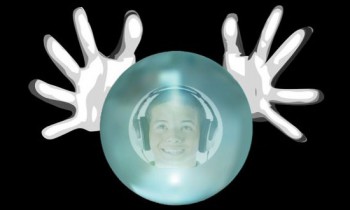 From the major label perspective, getting a hit typically requires two things: (1) lots of money (ie, radio play), and (2) the perfectly-receptive mass audience.  Simple game, right?  Well, it turns out the results of this alchemy can now be decoded months in advance, by monitoring early reactions across interactive platforms.
Like Shazam, the now-saturated mobile music recognition app.  Of course, songs are playing in our environment all the time, but music fans only choose to tag (ie, identify) songs that they really like.  Which, according to Shazam, means that the most proactively-chosen songs are likely to gravitate into much bigger hits – especially in the presence of serious promotion and repetitiveness.
Seriously, these guys think they have hit-prediction down to a science.  "Shazam's Tag Charts are recognized as one of the most accurate predictive measures for the industry to see which songs and artists are resonating with people," said Shazam Director of Music and Content, Will Mills.  "In fact, up to 85 percent of the songs that get to number one in Shazam's charts go on to break into national top 10 charts, as well."
So what does this radical, forward-looking list look like?  This definitely isn't a bottoms-up, organic digital list at all.  Instead, it looks a lot like the major-driven, repetitive chart-toppers of today – and includes continued saturation of Gotye.
And with that, here's Shazam's predictions for the ten biggest chart-toppers of the summer.  Call BS on this now, or wait a few months for the real verdict.
(1) Gotye, "Somebody That I Used to Know"
(2) Usher, "Scream" and "Looking 4 Myself"
 (3) Maroon 5 featuring Wiz Khalifa, "Payphone"
 (4) Calvin Harris featuring Ne-Yo, "Let's Go"
 (5) Rick Ross featuring Usher, "Touch 'N You" (also, "Stay Schemin'")
 (6) Gusttavo Lima, "Balada Boa"
 (7) Rudamental featuring John Newman, "Feel the Love"
 (8) DJ Fresh featuring Dizzee Rascal, "The Power"
 (9) Nicki Minaj, "Pound the Alarm"
 (10) Alabama Shakes, "Hold On"