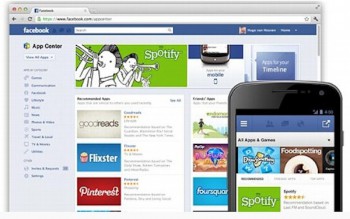 The Facebook app on your Android device, iPhone or iPad is about to get a lot more interesting.
Facebook has announced it is in the process of launching an App Center in the Android and Apple Stores Thursday night. It's rolling out on three platforms: Android, iOS and Facebook.com (on the mobile web) itself.
We've known Facebook was working on an app center for some time; it was announced back in May. But this is its first public-facing manifestation, appearing as updates in app stores.
What this means: You'll soon be able to customize your mobile Facebook app. Will Facebook be charging for the apps? Here's a clue: the company explicitly doesn't want to call it a "store," according to ABC News.
"The App Center is launching tonight with more than 600 social apps, including Nike+ GPS, Ubisoft Ghost Recon Commander, Stitcher Radio, Draw Something, and Pinterest," Facebook reps wrote in an email.
"You'll only see high quality apps in the App Center, based on user ratings and engagement."
Keep it right here, we're updating this fast. We'll let you know when the various App Centers are available. –Mashable