Here's a detailed breakdown of the twenty most profitable merchandising items – pound for pound – based on average costs and expected retail price tags. The data comes from top merchandising provider Jakprints, which compiled and averaged the data from multiple band and retail sites.
Here's a top-level look based on profit margins, specifically expressed as how much larger the retail price is than the cost.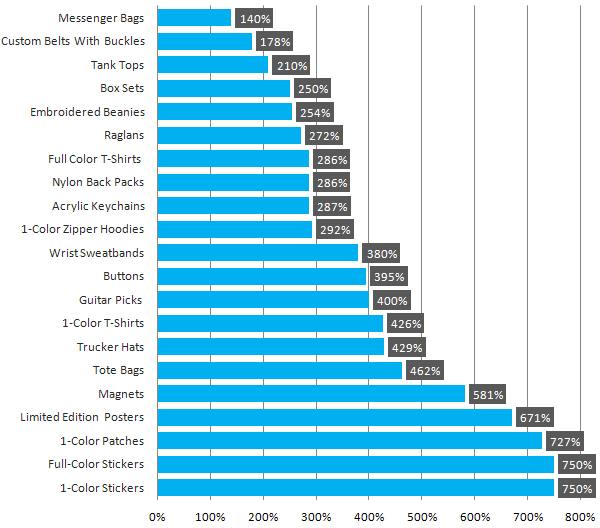 And, here's the more detailed breakdown of average cost and retail price.
But what do you do with this data? The wrong answer is to focus entirely on the highest-margin stuff, simply because there may not be a match with your audience. But faced with limited choices on what to sell and focus on, this can help guide choices.
Jakprints also offered a number of other tips of maximizing returns, and reducing upfront spending:
(1) Start off with smaller minimum quantities to see what your fans react to. Scale up your production when you know what works.
(2) Know your fans, find out what they want and see what they buy so you can offer products that fit your fan base.
(3) Smaller accessories that fit into pockets or bags are a great way to increase your exposure.
(4) Giveaways such as stickers or patches with a larger dollar purchase creates a fan base that will come back for more.
(5) Keep track of what's selling, what isn't, how much you've invested and what you are selling it for. Track your profits for intelligent future investments in merch.
(6) Pre-sales! See how many people are interested in the product and help quantify what quantity to purchase from your printer.
(7) Space at a premium on your tour? Don't take your entire inventory with you, lots of printers offer drop shipping options. Have your merch meet you in Cleveland.
(8) As you get bigger, don't forget about online merchandising companies. They can take care of your online sales, warehousing, drop shipping, invoices, even printing your merchandise. You'll spend a little bit more money, but you'll have pros stressing about overnighting a t-shirt to Tulsa on Christmas Eve while you relax with your family.