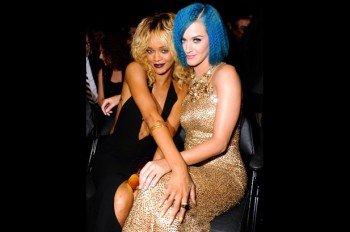 Happy birthday, Billboard's Nielsen BDS-based Pop Songs chart! Two decades in, the ranking continues to track the trends at, and reveal the realities of, U.S. mainstream top 40 radio.
The chart's 20th anniversary – it launched the week of Oct. 3, 1992 – also coincides with an unprecedented pure pop boom, as mainstream top 40 radio is playing more pure pop than ever before. And, as station ratings soar, such a focus on the format's musical middle ground is reinforcing that the format works best when deemphasizing such extremes as rock and rap.
A year-by-year analysis of Billboard's Pop Songs chart reveals that pure pop – i.e., melodic, often synth-driven, uptempo fare from the likes of Kelly Clarkson, Lady Gaga and Katy Perry – has made up at least 60% of the survey's total top 10 hits each year from 2008 through 2012 (from January through July annually). Last year, the style accounted for a whopping 79% of the list's top 10s – the highest percentage in the chart's history – as 30 of the 38 top 10s during that period fit a pop classification.
Read the rest after the jump!
This week, Chart Beat is celebrating the 20th anniversary of Billboard's Pop Songs radio airplay chart.
Today, Oct. 2: Analysis: How Lady Gaga, Katy Perry And Rihanna Came To Dominate Top 40 Radio
Tomorrow, Oct. 3: The Top 100 Pop Songs 1992-2012, From No. 100 To No. 1
Thursday, Oct. 4: The Top 40 Pop Artists 1992-2012, From No. 40 To No. 1
What's behind the pure pop boom? It's no coincidence that 2008 marked the arrival of two of the format's reigning stars: Perry and Gaga. Rihanna, meanwhile, continued to solidify her star status as an almost constant chart staple, adding touches of R&B and reggae to her overall pop focus. Add the continued domination or resurgences in that span of such acts as Christina Aguilera, Clarkson, Maroon 5 (which, in recent years, has segued from rock to a more pop lean), P!nk and Britney Spears, and it's clear that pop became tops at mainstream top 40 radio.
In turn, ratings have reflected that audiences' appetites for pop are robust. CBS Radio flipped KAMP Los Angeles and WXRK New York to mainstream top 40 in 2009, taking on respective Clear Channel Media and Entertainment-owned format leaders KIIS and WHTZ. In Arbitron's August 2012 ratings among listeners ages 6 and older, KIIS led all Los Angeles stations with a 5.5 share, while KAMP pulled a 3.8 share. In New York in August, WHTZ registered a 6.1 share, while WXRK scored a 2.4 showing.
Similar battles brew in other large markets. In Detroit and Boston, CBS Radio has likewise switched WDZH (also in 2009) and WODS (two months ago) to mainstream top 40, again challenging established Clear Channel-owned format outlets WKQI and WXKS, respectively.
Programmers' adherence to, and the availability of, pure pop music at the format has ebbed and flowed since Billboard premiered Pop Songs, born of then-new BDS electronic monitoring technology, 20 years ago. (Ironically, given its title, Boyz II Men's "End of the Road" led the inaugural list. Current No. 1 "One More Night" by Maroon 5 is the chart's 252nd topper.)
While pure pop has comprised more than 60% of all Pop Songs top 10s each year since 2008, the sound encompassed just 41% in 1993, when R&B from the likes of Whitney Houston, Janet Jackson and TLC infused format playlists.
In 1996, pop accounted for just 19% of all top 10s, as such rock/alternative acts as Gin Blossoms, Hootie & the Blowfish and Alanis Morissette became the format's – and the public's – flavor of choice.
And, in 2003, pop's percentage rose to 45%, but the amount of rap top 10s doubled to 12 from the previous year, too. The heyday of 50 Cent, Diddy and Eminem at pop radio contrasted with 1993-2002, when no more than one rap title reached the top 10 annually.
Since 2008, however, Rihanna has reigned with 15 more top 10s after "Umbrella," Gaga's implored us to just dance (while racking seven Pop Songs No. 1s) and Perry's tallied a record six Pop Songs No. 1s from one album ("Teenage Dream"). And, she, um, kissed a girl. Clearly, we've liked it all.
According to Edison Research VP of music and programming Sean Ross, several factors have aligned to make for a current pinnacle for pop music. "There's less competition. R&B/hip-hop and alternative don't have the [ratings] influence that they used to, or, thus, the same ability to force songs on top 40′s agenda. Only country has a similar ability to break new music and it's still viewed by most pop PDs as another sphere."
Ross adds that mainstream top 40 has learned to cultivate its own versions of rock and R&B-influenced pop, allowing the format to sample variety without risking playing extremes. In recent years, he notes, the format largely replaced hip-hop with rhythmic pop from such acts as the Black Eyed Peas. Teen punk similarly usurped alternative at top 40, thanks to the rise of bands like the All-American Rejects. "Plus, R&B acts like Chris Brown and Usher are releasing exclusive pop singles for top 40 while saving their core R&B singles for that format," says Ross (who served as Billboard's radio editor in 1988-92).
While the names have changed – Peter Cetera, En Vogue, Guns N' Roses, Elton John and Toad the Wet Sprocket inhabited the maiden Pop Songs chart; Miley Cyrus wasn't born until a month after the list's launch; Justin Bieber, a year and a half later – the survey continues to help guide pop programmers' decisions. "The Pop Songs chart came along at point when country and hip-hop were competing heavily with the format," Ross recalls. "It gave mainstream top 40 PDs their own chart to look at."
Twenty years later, it continues to.