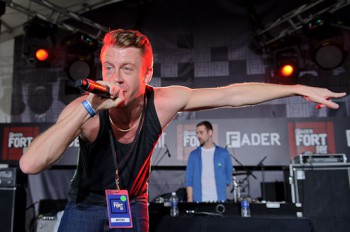 Macklemore and producer Ryan Lewis – collectively known as Macklemore & Ryan Lewis – have the music industry buzzing. Without the help of a major record label, the Seattle hip-hop duo's debut album The Heist landed at the #2 spot on the US Billboard albums chart when it hit stores in late October, moving an impressive 78,000 copies in the first week.
Equally if not more impressive is Macklemore & Ryan Lewis' touring success. As a client of The Agency Group, one of the leading booking agencies, the group has gone from performing at small clubs in 2011 to consistently selling out 1500+ in the majority of U.S. markets. In fact, all 50 shows on their current tour are sold out. I mentioned that they're not signed to a major label, right?
So how did Macklemore & Ryan Lewis do it?  I spoke with manager Zach Quillen and The Agency Group's Vice President Peter Schwartz for some insight.
Chris Franco: It seems like every musician uses social media, but clearly Macklemore & Ryan Lewis are using it the right way. They're selling out shows around the country, and they're also selling a lot of music, more than many artists signed to major labels. What social media platforms do you find are most effective for reaching this kind of success independently?
Zach Quillen: Well what's important to us is that we can share information directly with fans in a way that's also easy for [the fans] to pass around. Facebook and Twitter are our biggest sources of outreach to fans. We also have an official website, and we made a decision to build the official website Macklemore.com off the Tumblr foundation. Every post on the official site, whether it's adding a video to the site or a set of photographs, is also a Tumblr post that we can share and promote [on that platform]. So really between our website, which is a Tumblr, Twitter, and Facebook, that's our format to pass the art around to the fans.
Chris Franco: What about Tumblr is so appealing to you and the guys?
Zach Quillen: The ease in which we can share information to fans and pass it around made Tumblr appealing, but the real factor has to do with Tumblr's backend. Tumblr has a great app for the iPhone and iPad and as a manager, I wanted to make sure we had a very user friendly site for Macklemore and Ryan so that they could be out, take a picture on Instagram or something else, and have it automatically post to the website or jump on the Tumblr app and create a blog post on-the-go because these guys obviously travel all the time. Before I came along — or they had anyone helping them — it was their voice. We've been really cognizant of not changing that. So Macklemore doesn't have somebody tweet for him, it's always his voice, and the same with the Facebook and Tumblr. We make it super easy and accessible to them so they continue to be the ones in contact with fans and in control of their message at all times. These guys care a lot about that.
Chris Franco: Peter, you play a huge role in the touring careers of some of the most recognizable names in music including Macklemore & Ryan Lewis. How do you see social media impacting the touring industry as a whole?
Peter Schwartz: It's been a huge aid to the touring industry. It has enabled unknown and unsigned acts to hit the road and sell tickets, and build real lasting touring careers. That was a real challenge years ago. It is also of course now the way for artists to connect with their fans. That connection helps sell tickets. I can't even remember or understand how we got along without it before.
Chris Franco: What mistake do you see a lot of artists making with their social media?
Zach Quillen: I think a lot of bands, if you go to their websites, you find ten different social media options, and as fans I think that can lead to a bunch of news and confusion, like 'where do I go?' So we really wanted to focus on those three [aforementioned] places [so we can] appease those large groups of users. Our site is more secondary.
Chris Franco: But I'm sure the SEO benefits of having your own domain name are helping you reach new fans…
Zach Quillen: Definitely. It's also about marketing to new fans like if [search] Google [for] "macklemore" you'll see the site is one of the top two things that pops up. It's just easy I think if new fans are Googling for Macklemore, the website at the top of the search results is probably going to be their first destination. And if they click [the official website], we want that to be a place that leads to other things — you can jump to Instagram, to Twitter, from there. It's an official source, and it's given us a platform to put out "Same Love" which is a record that required a bit of statement. Macklemore was able to go onto our website, write a long intricate statement about why he wrote the record, and we released that along with the record. It was like because it's on Macklemore.com, it became more of an official statement from him on that song. It's important to have that one place that's deemed the official source so people know if it's on there, it's coming from us.
Chris Franco: Peter, I'd like to give you the last word. I understand that all 50 shows on the current Macklemore & Ryan Lewis tour have been sell-outs. That's a huge feat. How has the Internet aided your strategy in determining what markets to go to?
Peter Schwartz: The internet is a huge indicator for us in general, but more often in terms of a national presence. In terms of specific markets, we try to take notice of heat coming from one particular region or specific market. We the agents, or management, might receive noticeably more emails from one city or another. We also might see more Facebook posts from a particular area. If we feel that heat, we try and take those things into account.
 Props to Hypebot
Check out the rest after the jump! [AlLindstrom]