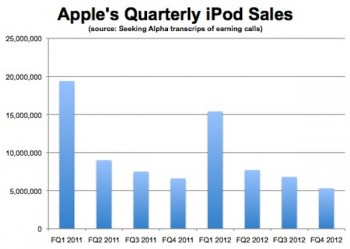 Falling sales of MP3 players, impacted by feature-filled smartphones, could turn out to be one of the music industry's biggest opportunities in years.
It should come as no surprise that market research company Mintel announced this week that MP3 player sales in the UK had fallen 22% from 2011 and will be cut in half by 2017. Today's smartphones do everything an MP3 player can do, plus make calls, schedule appointments, take pictures and browse the Internet. Today's MP3 player is better for very limited-use cases like exercising (it's much easier to strap a small iPod Nano to your arm than a smartphone).
MP3 players' downward slide has not been a secret. Sales of Apple iPods fell from 7.7 million units in the first quarter of the 2012 to 5.3 million units in the third quarter. Even though Apple launched new versions of the iPod Nano in October, the downward trend will continue this quarter. This holiday season was more about tablets and smartphones than MP3 players.
The music industry should celebrate the rise of the mobile phone: They are the gateway drug to tomorrow's leading music services. Ownership of feature-rich devices will help subscription services because of the premium placed on mobility (the free, ad-supported services are free for PC-based listening). They will encourage people to adopt cloud-based storage lockers for their music collections. They will change how people buy everything from concert tickets to merchandise.
MP3 players had a great run. Even though many of today's MP3 players run iOS or Android operating systems, the mobile phone is an irremovable part of a person's life. The music services of tomorrow will reflect that fact. [Billboard.biz]