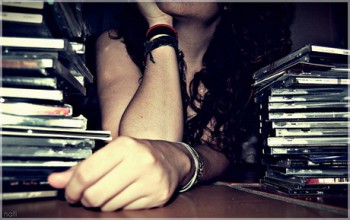 In a previous post I spoke about developing a strategy for fan engagement. One of the best tools that we encourage Bandzoogle members to use to engage with their fans is a blog. A blog is essentially a web log, an online journal where you can post entries and where your fans can leave comments. Blog posts can be used to announce news (album, tour, etc.), document experiences (recording, touring, etc.), or offer anecdotes from your personal life (passions outside of music, funny pets, etc.). Posts can be mostly text, mostly photos, or even video. Here's why blogging is great for engaging your fans:
Why Blogging is Great for Fan Engagement
Blogging is one of the best tools to engage your fans with because it's interactive. Your fans can leave comments, which you can then respond to, creating an ongoing conversation. Also, if you host your blog on your own website (and you should), it allows you to engage with your fans on your own terms, without tons of ads and links trying to take them away to view other content.
Blogging also creates a stronger connection to your fans. It's a great way to show your personality and give fans insight into your career, which can help turn casual fans into super fans. Your blog also adds context to your music, and that's how fans will come to value it more. They might be fans of your music already, but if they become fans of you on top of that, then the music gains an increased perceived value. Our CEO David Dufresne likes to make the comparison of having your music in a gallery versus at IKEA.
Other Reasons to Blog
Besides being a great tool to engage your fans with, there are other benefits to blogging:
Drives people to your website
Blogging is one of the best ways to drive people to your website. Every time you create a new blog post, it's an excuse to invite fans to check out your website. Some artists create a blog separate from their website and host it on one of the various blogging platforms, but why give traffic to a site that you don't own?
Instead, host the blog on your website that you own, where you can collect valuable data to know where those fans are from, what songs they listened to, how long they stayed on your site, etc. And by using yourcall-to-action, you can get them to sign up to your mailing list, or shop in your online store.
Gives you content for social media
Many artists struggle with what they should talk about on Facebook and Twitter. Creating new blog posts gives you great original content to push out to your social media profiles, and in turn, drives people back to your website.
Shows that you're active
Blogging is one of the best ways to show that you are active in your career. If a potential fan visits your site, enjoys your music (which you made easy to listen to), and then sees that you have months of regular blogging under your belt, they might click on a few posts to get a better sense of your personality. If they really like what they read and feel a connection to you, you might have a fan for life.
Blogging is great for SEO
Improving your SEO (search engine optimization) is another great reason to blog. Simply put, the more you blog, the more Google can find you, and the higher in the search results you will potentially appear based on the keywords, titles, and content of your blog posts.
If You Start Blogging: Remember the 3 Pillars
If you decide to start blogging, always keep in mind the 3 Pillars of Music Fan Engagement. Blogging must be in your own voice (authentic), you have to be consistent, and to really see results, you have to sustain it over the long term.
Just as an updated blog shows that you're active in your career, inconsistent blogging can create a negative impression. Focus on posting on a regular basis, rather than trying to make each post perfect. You don't have to blog every day; once a week or once every 2 weeks is a good pace. As a minimum, you'll probably need to blog once per month to keep it looking current and relevant.
And of course, it goes without saying (but I'm saying it again): Never leave your fans hanging. If a fan responds to a blog post, thank them. If they ask a question, answer it. This will encourage them to keep reading your posts, and might even inspire them to share your content, buy some merch, and go to your next show.
Via Hypebot