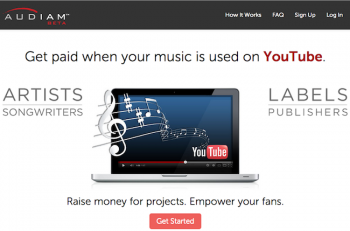 Jeff Price and Peter Wells, best known as the co-founders of TuneCore, are launching a new business today called Audiam centered around getting indie music and user-generated content on YouTube properly credited and monetized.
Audiam is soft launching outside the U.S. with Price expected to announce it today at the North By Northeast conference in Toronto. In an email, Price says he expects the beta website to be refined with more features later this summer before launching the service to U.S. artists.
Price claims that the major labels dominate YouTube payouts for videos that have been monetized and he wants to help indie artist get on the same footing as the majors. "The music business has come to YouTube, and Audiim is going to democratize it," Price said in an e-mail to Billboard. "It's sort of a habit Peter [Wells] and I have fallen into."
In 2006, Price and Wells founded TuneCore, which helps indie artists gets their music onto digital music services. Since its inception it has paid out more than $300 million to artists (see story yesterday). Price and Wells left the company last summer in very public break-up that was well documented.
YouTube only monetizes videos that have proper credits attached to them for the masters and publishing royalties. While it has its own service, RightsFlow, that engages in that task for publishing, major and indie labels and publishers help that process along by trying to find user-generated videos posted to YouTube that use their songs so they can be properly monetized.
What Audiam claims it can do for indie artists is find videos that use their music; "get text ads or commercials placed in or on them; increase the amount of ad money you make; teach you how to get found more often in YouTube; get you your share of the money; and make sure other people are not telling YouTube they own your music," according to the announcement.
Audiam will also supply YouTube information for the music in the videos, which will allow the service to auto-generate buy links for iTunes, Amazon MP3 store and Google Play, although the FAQ recommends to artists whose songs are not available in those stores that they use SongFlow or DistroKid services to get their music available on those sites. It does not mention TuneCore, which Price is still an equity owner in.
In an e-mail to Billboard, Price wrote, "There are a lot of good choices out there for artist for distribution…Artist should take the time to investigate what each one has to offer, how they work, how much they cost and pick the ones that work the best for them."
As the Audiam FAQ points out,  indie artist themselves can make their own music available and credited on YouTube, but it also points out that it has the staff and infrastructure, which makes it more effective in performing those duties. In exchange for properly crediting and policing indie content, Audiam will charge users a 25% administration fee, taking it out of revenues paid by Youtube, so there is no upfront money paid to the service by the artists.
"Until now, artists have not had the needed access to make money from YouTube—access that has almost exclusively been the world of the major labels," said Audiam CEO and founder Jeff Price in a statement. "As we did with TuneCore, Peter and I are going to make sure every artist has access to the same services as the majors and gets their money whenever and wherever their music is used." [Billboard.biz]