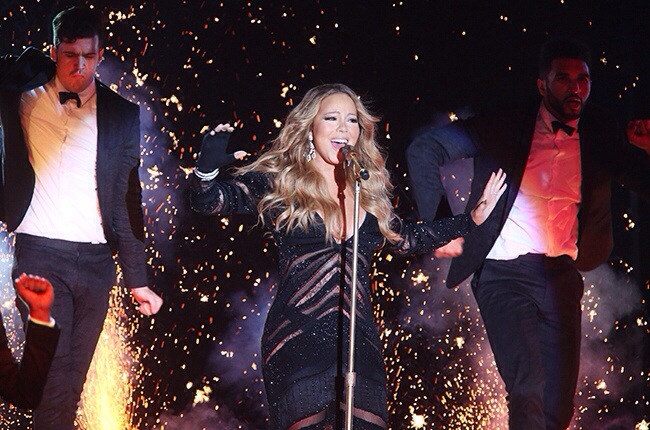 Mariah Carey's latest album, Me. I Am Mariah… the Elusive Chanteuse, entered the Billboard 200 chart at No. 3 with 58,000 sold, her lowest total for a non-holiday album since 1991′s Emotions entered at No. 4 with 156,000, when SoundScan first started tracking sales.
Not even in her darkest days, being hospitalized for emotional exhaustion and erratic behavior in 2001 after signing a $100 million, five-album deal with EMI's Virgin Records, and starring in the universally panned Glitter, has an album done so poorly. Even the soundtrack to that disaster sold more, debuting at No. 7 with 116,000 copies.
Island Def Jam's Antonio "L.A." Reid famously came to Carey's rescue in 2005, guiding Mariah to her comeback with the multiplatinum The Emancipation of Mimi, which returned her to the top of the charts, proving it's still possible she can regain her commercial footing.
Still, these days it's a lot tougher to get traction in the marketplace. So we turned to a trio of veteran, one-time record label executives to ask what they'd do to jump-start the Elusive Chanteuse's career, and came away with some constructive suggestions.
Ed Eckstine, son of the legendary crooner Billy Eckstine and a former President of Mercury Records, where he guided Vanessa Williams to a successful singing career, approached the dilemma as a music man. He is currently producing a documentary on his father, My Dad was a Singer.
"As Mariah Carey enters her mid-40s, she must adjust to 'ever-shrinking' radio opportunities," he says. "She has to downsize her commercial expectations, but that could allow her to take some chances artistically."
Eckstine says Mariah should explore taking the Celine Dion route of a Las Vegas or Atlantic City residency, "a big show with bells and whistles, an over-the-top diva-ready extravaganza" might be the answer, where she can perform her hits and not worry about new material.
The veteran record man also suggests Carey might tone down the "va-va-voom" imagery, record an EDM-dance-Europop album or reunite with Clive Davis to provide her with some quality material.
"Dial up Pharrell and tell him to bring Nile Rodgers with him," he concludes.
Tom Vickers, a former A&R and music publishing executive at A&M, Capitol, Mercury and Almo Irving, thinks the 44-year-old Mariah has a disconnect with what was once her core audience: 14 to 18-year-old girls. "The biggest issue is she's a mother with two children of her own trying to appeal to teenagers."
His recommendation? Collaborate with hit songwriter-producers like Dr. Luke, Max Martin or "this year's model."
"Don't compete with women 20 years younger, but come with more mature versions of what they're doing that could hit a slightly older demographic," he says. "Unfortunately, Mariah is no longer perceived as a role model by females nor a sex object by men. She's caught in between, which undercuts her relevance."
He also counsels Mariah to seek out duet partners that could broaden her audience, such as John Mayer or even an international star like Pitbull, create an "event" record based on a theme (a period songbook, an unplugged album, etc.) or set her sights on international territories where she has shown strength in the past. "It was not a smart career move getting into bitchy cat fights with Nicki Minaj on American Idol," says Vickers. "She's bound to suffer in comparison."
Publicity guru Bob Merlis, who spent most of his career at Warner Bros. Records, where he applied his magic touch to everyone from Madonna to Morrissey, quipped, "She should do a country record and a Howard Stern interview, where she has the time to explain herself that she doesn't get in those tabloid sound bites."
What he failed to mention was how a sit down with the King of All Media in the late '90s surfaced again during her 2001 breakdown. She went on a rant against Stern during an in-store appearance at Tower Records, saying his form of humor greatly upset her, during her period of "erratic behavior," which included an infamous drop-in on MTV's TRL, where she handed out ice cream bars and began a modified striptease to the astonishment of host Carson Daly.
Nearly 13 years later, Carey is seemingly content in her personal life, the mother of two and the by all accounts contented wife of the ubiquitous Nick Cannon. Her professional happiness is another story. Perhaps nothing short of a reunion with ex-husband Tommy Mottola can help Mariah regain her career mojo. She's seemingly tried everything else.