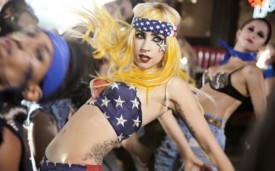 Lady Gaga might have been "Born This Way," but the success of her megahit album of the same name didn't happen by chance. Instead it followed a comprehensive social media campaign led by strategist Jaunique Sealey.
Sealey, whose company specializes in social media marketing and branding, audience development and digital media distribution, was charged with developing a campaign to help make the album's release the largest in history. The 1.1 million copies sold in its first week made "Born This Way" the fastest-selling album in 2011.
"Lady Gaga's team is huge, and I would never claim the success was because of me, but I do think that the strategy we used was very groundbreaking," Sealey tells BusinessNewsDaily.
The goal was to roll out the album in much the same way movies are released. "We wanted to drive interest in every possible platform," Sealey says.
The centerpiece of the campaign was a partnership with social network game developer Zynga. Known for itsfan favorite Farmville, Zynga and Sealy created a spinoff called "Gagaville" for the album release.
The three-day feature let Lady Gaga fans complete tasks that, when finished, unlocked online versions of unreleased songs from the album.
"No one has ever used a gaming platform to release an album before," Sealey says. Her strategy resulted in more than 13 million users downloading songs.
Sealey says the key to this campaign's success, as for any social media campaign, was to always focus on the target audience.
"A large part of the conversation involved the fans," Sealey says. "Our first concern was: How do we involve the fans?"
The trick is knowing the audience, knowing which social media outlets they visit and tailoring the message specifically to them, she explains. "You need to craft a message that they will understand."
But according to Sealy, the biggest mistake others make is constantly thinking about what can be done instead of what should be done.
"They are chasing after new platforms but are not focusing on why people are using these platforms," she explains. "So their efforts end up being for naught."
Sealey recently authored the book Piece of the Fame: Rockstar Social Media Marketing Strategy for Everyone. The book is a guide to creating a successful brand online. It provides in-depth views of social media platforms by examining them from both conceptual and literal angles and gives advice on how to take advantage of the close relationship with consumers that social media offers. –Mashable