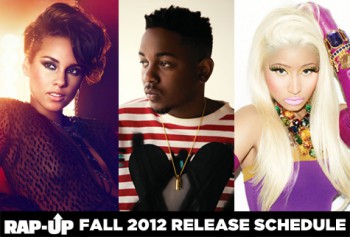 As the weather gets colder, music's hottest artists are gearing up to release newalbums. We've compiled our annual list of fall's most-anticipated releases from newcomers like Kendrick Lamar and French Montana to veterans like Brandy and T.I., who are planning big year-end comebacks.
Will R&B crooner Ne-Yo keep the winter fires burning with his R.E.D. album and will the highly-anticipated Dreams and Nightmares from Maybach Music Group's spitter Meek Mill live up to the great expectations?
There's also a slew of divas expected to drop albums including Nicki Minaj, Rihanna, Alicia Keys, Keyshia Cole, Ciara, and even the late great Whitney Houston.
Here is a rundown of what ear candy will keep your iPod bumping well into the new year. As always, these dates are subject to change. Check out the dates after the jump! [RapUp]
October 9
Machine Gun Kelly – Lace Up
MellowHype – Numbers
Xzibit – Napalm
Mateo – Suite 823
October 11
Jay-Z – Live in Brooklyn
October 15
Leona Lewis – Glassheart (U.K. only)
October 16
Brandy – Two Eleven
Dawn Richard – GoldenHeart
K'naan – Country, God or the Girl
Bobby V – Dusk Till Dawn
October 22
Kendrick Lamar – good kid, m.A.A.d city
Ryan Leslie – Les Is More
October 30
Meek Mill – Dreams and Nightmares
CeeLo Green – CeeLo's Magic Moment
Marcus Canty – THIS…Is Marcus Canty
November 6
Ne-Yo – R.E.D.
November 13
Big Boi – Vicious Lies and Dangerous Rumors
Whitney Houston – I Will Always Love You – The Best of Whitney Houston
50 Cent – Street King Immortal
The Weeknd – Trilogy
Christina Aguilera – Lotus
Travis Barker & Yelawolf – Psycho White EP
November 19
Keyshia Cole – Woman to Woman
Nicki Minaj – Pink Friday: Roman Reloaded Re-Up
Pitbull – Global Warming
November 20
Talib Kweli – Prisoner of Conscious
November 27
Alicia Keys – Girl on Fire
December 4
Wiz Khalifa – O.N.I.F.C.
Ciara – One Woman Army
Ke$ha – Warrior
Melanie Amaro – TBD
December 11
Bruno Mars – Unorthodox Jukebox
Lil Wayne – I Am Not a Human Being II
December 18
T.I. – Trouble Man
Ca$h Out – Patience
Additional Q4 Releases (Date TBD)
Rihanna – TBD
Big Sean – Hall of Fame: Memoirs of a Detroit Player
Game – Jesus Piece
Kid Cudi – Indicud
French Montana – Excuse My French
A$AP Rocky – LongLiveA$AP